Main content starts here, tab to start navigating
"Food is Memories."
-- "The Hundred-Foot Journey"
For chef/owner Peter Dominguez and his wife Leanne, sharing good food with family and friends has always been a treasured part of their lives and memories.
For Peter those memories reach back to childhood visits to his grandma's house in sunny AZ, watching and learning how to make family recipes such as tamales, chili sauces……and apple pie. He has spent 25 years honing his skills as a chef in the San Francisco Bay Area in restaurants featuring American Steakhouse, Mexican, Italian and Vegetarian cuisines. His commitment to quality is echoed in our mission statement "Great food, great service. Every plate every time."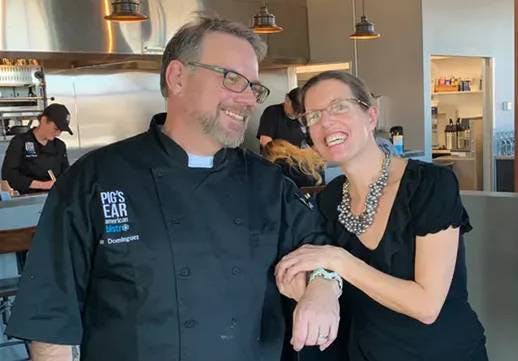 Leanne's food memories have been greatly enhanced by marrying a chef! Her 20 plus years of restaurant experience have focused on guest service in the dining room. She brings her love for design, detail and "breaking bread together" to the restaurant where she hopes each person who comes in as a customer will leave feeling as a welcomed guest.
For both Peter and Leanne, this restaurant is the realization of a long-held dream to open a place of their own. For a while they thought that dream might turn into a reality in CA or even BC, but they are happy that it is happening now in Southern UT. They are excited to be part of the local community and invite you to come and make your own food memories with us here at PIG'S EAR AMERICAN BISTRO.